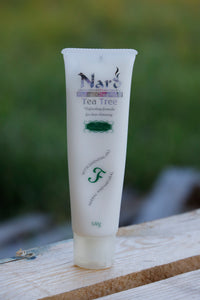 Description: Soap-free Nard Facial Cleanser removes dirt and makeup without over-drying. It has been carefully formulated to work with your skin's natural pH, leaving it soft, healthy, and clean.
SIZE:100g
Ideal for: Normal, Oily, Sensitive and Mature skin types.
How to use: Use morning and night. Apply to moist skin, massaging gently all over face and neck. Rinse off well with warm water. Maybe used on the eye area.
MAIN INGREDIENTS: water, 2-methy1-1, 3 propanediol, tea tree oil, polyoxyethylene octyl phenyl, lavender, rosemary, peppermint, spearmint, vitamin E, PEG 6000, PEG 10000.