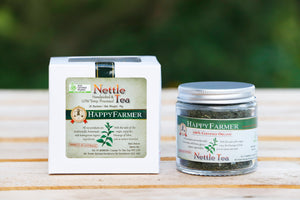 Unique low temperature processed organic Nettle Tea. Made from 100% organic nettle leaves slowly dehydrated to preserve its nutrients and benefits. 
Stinging nettle is a nutritious plant popular in Western herbal medicine.
It is mostly consumed in its tea form to improve several health aspects like heart issues, gut health, immunity development, kidney function enhancement, allergy reduction, UTI problem and arthritis pain . It is a powerful blood purifier that drives out toxins from the body, making it the perfect addition to your daily routine to stay healthy.
Stinging nettle is rich in a multitude of amino acids, protein, flavonoids, and bone-building minerals like iron, calcium, magnesium, silicon, potassium, and zinc. 

Ingredients: 100% Certified Organic Nettle Leaves.