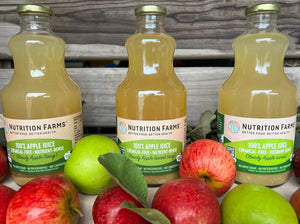 Nutrition Farms Organic Apple Juice
This remarkable juice is produced from very special fruit. Nutrition Farms Happy Apples are, as the name suggests, fruit that have been nourished and nurtured beyond best practice.
These are chemical-free, nutrient-dense fruit. Their extreme nutrition ensures forgotten flavours with a sweet, tangy, crispness. These superb fruit often have a longer shelf life, and the wonderful medicinal qualities of apples are reclaimed, to the point that an apple a day may actually help keep the doctor away.
Benefits of Nutrition Farms Apple Juice:
1) Cloudy apple juice is much more nutrient dense than clear apple juice, as the "cloud" contains phytonutrients.
2) Happy Apples are jam-packed with antioxidants called polyphenols, with multiple wellness attributes.
3) The skin of Happy Apples contains the immune-enhancing anti-inflammatory, quercetin, which is present in the cloudy residue.
4) Try this apple juice with 50% sparkling mineral water for a truly delicious treat.
"The Life of a Happy Apple"
blog.nutri-tech.com.au/the-life-of-a-happy-apple/
Click this link to read about the complete history of your apple – how and where it was grown (with pics), and an outline of the full agricultural nutrition program. We offer this information for full accountability to our consumers.